ULLADULLA TREE SERVICES
LOPPING, REMOVAL & PRUNING
Above The Rest Tree Care and its highly trained tree specialist offer a variety of different tree services in the Ulladulla area.
Our tree specialists focus on providing the best tree care for all types of trees in the Ulladulla region. Whether it is your backyard tree or large trees on your property, we're on it!
Our very experienced climbers and arborists are able to climb up the tree or use EWP (elevated work platform for safety) to care for your trees.
To find exactly what you need easily, we have collected all the information you need in the article below. 

Click on each section of our Ulladulla Tree Services below to guide you to what you want to read quickly!
Tree Lopping or Cutting Services
Tree Lopping or Tree Cutting and Tree Removal Services: The Difference
Tree Lopping, tree cutting and tree removal are often used interchangeably as the same service of removing a tree from an area. That is because tree lopping or tree cutting is often used in everyday vocabulary, but it is not the best way to describe the tree service that you're after! 
There is actually an important difference between tree lopping or tree cutting and the removal of large trees.
Tree lopping or tree cutting are the services of cutting off branches, removing the main stem(s) of a tree or even cutting off the top third part of a tree to reduce a large tree in size. Tree lopping was commonly done during the start of the tree service industry and was mostly the preferred action due to a lack of information, standards, and training.
During the tree lopping process, up to 50% to 100% of the leaves on the crown of a tree can be removed. It often also leaves the tree with ugly malformed stubs that cause it to be susceptible to a whole host of diseases and pests. The fact that the tree is not getting the nutrients it needs through its leaves and that it might be getting attacked from all angles often results in a sick or dead tree.
Property owners often ask us for tree lopping services because they think a tall tree might pose a falling risk or a danger during bushfire season. Which they can definitely be! Because tree lopping often leads to your tree dying, the service of tree lopping will end up causing a bigger danger for trees to fall over or cause you issues down the line.
So we see that tree lopping is actually not the best process to deal with a large tree on your property.
If a tree is causing a problem with overhanging branches or because it is an unhealthy or damaged tree that might be a falling risk, tree removal or tree trimming might be the better treatment option.
Therefore, when you speak to Jesse or one of our other professional arborists, make sure that you are clear on whether you want your tree fully removed or just lopped. It's perfectly ok if you don't know what the best treatment is for your tree, that what our team of professional arborists (also knows as our "tree doctors" or "tree surgeons") is for! Give us a call and speak to someone on our team for the best action.
Now that you or the team has determined to have your tree removed rather than lopped, here is what to expect! As opposed to the act of tree lopping, during the tree removal process, we remove the whole tree from your property. Common reasons for tree removal or tree felling are:
How Above The Rest TREE Care removes a tree
The process of removing a tree will depend greatly on the size of the tree that needs to be removed. Surrounding factors such as the amount of space that we need to 'drop' the tree and nearby potential dangers such as other trees, property, or nearby power lines will be held into account.
There are two ways to remove a tree: cutting a tree at the base and cutting the trunk into pieces on the ground, or cutting the tree down piece by piece.
We will mostly choose to cut the tree down piece by piece when removing trees close to residential or commercial properties. In this method, we will choose to remove branch per branch by climbing up the tree or using machinery to allow for elevated platform work.
The even more powerful methods of tree removing using felling methods such as bulldozing or other heavy machinery tends to only be used when clearing land for development. If this is the service that you are looking for, make sure to give us a call and we can let you know the best way is to remove a large number of trees
Regardless of the location or size of the tree, our tree surgeons will be able to determine the best approach to remove the tree in a safe and swift way. We even offer the ability to mulch the trees right there on-site, super easy!
Using a Trained Arborist to Remove Your tree
Removing trees is not a straightforward process and can be very dangerous. That is why it is very important to work with an experienced local arborist when wanting to remove a tree.
Here at Above The Rest Tree Care, we only work with experienced climbers/arborists who adhere to the highest safety standard when climbing up trees or using EWP (elevated work platform for safety) to remove your tree.
It is very important to conduct tree removals by professionals who can work in confined spaces, around high power lines and close to roads, and to your homes or property. Removing trees with the least impact on the surrounding areas and property is our main goal at Above The Tree Rest Care!
10/50 Scheme for Tree Removal
The 10/50 vegetation clearing scheme allows people in designated bushfire risk areas to remove trees on their property, within 10 metres of a home, without seeking approval from the Shoalhaven council.
It also allows people to remove underlying vegetation such as shrubs (but not trees) on their property within 50 metres of a home, without seeking approval.
We recommend using the NSW Rural Fire Service online tool to find out whether your property is in a 10/50 Vegetation Clearing Entitlement Area. Find more information on the NSW Rural Fire Service 10/50 vegetation clearing page.
Tree pruning and trimming: The Difference
Many people get confused about the difference between pruning and trimming. The different isn't necessary in the action, but in the reason for the work.
Tree pruning is to protect a tree or shrub. We remove dead or loose, maybe even infected, branches so that the tree grows better. Trimming, on the other hand, is done to ensure the perfect growth of a tree or for aesthetic reasons. In the trimming process, overgrown bushes are removed from the shrub to make sure the whole plant receives enough light and moisture.
The tree pruning that Above The Rest Tree Care performs focuses on all types of trees. We work with skilled climbers and arborists or use EWP (elevated work platform for safety) so we can reach any height. As tree pruning can be dangerous and precise work, it always needs to be performed by a trained tree surgeon who knows what they're doing. Otherwise, you may not achieve the desired results.
Above The Tree Rest Care is able to take care of both smaller and larger jobs. For the smaller ones, we might use manual tools such as rope saws, pole pruners, and portable bucksaw. For bigger trees, where we could for example need to remove deadwood from a canopy of a large tree, we will be utilising a chainsaw on top of an elevated platform.
Professional tree pruning experts are able to execute the job quicker, safer and more efficient. We've seen it all and will know how to tackle each tree in the most efficient and cost-effective way. It can be quite different when doing it yourself. Especially if you're after large tree pruning, we recommend hiring an experienced arborist with experience in elevated work platform work.
There are a few reasons why you want to engage in tree pruning services:
A tree is causing danger to people or property (in this case, a permit will most likely be necessary)
Regular pruning is recommended for the health of a tree
Pruning can improve the aesthetics of a tree
You should always aim to keep your tree healthy and well balanced. This means cutting off branches that cause problems for people or property. A skilled arborist will be your best partner in achieving this end-result.
Palm and Tree Pruning Methods
Whether you're looking to prune a tree for aesthetic, health, or maintenance reasons, pruning work should always be done by a highly skilled arborist who complies with Australian Standard AS 4373-2007. It is important to remember that tree pruning can be a very complex, difficult, and potentially dangerous task. Hiring a skilled arborist will ensure that everyone stays safe and that no property gets damaged during pruning tasks.
There are a few tree pruning methods that we use often. If you are not sure which pruning service you are after, get in touch with us at 0423 749 505 to get an expert opinion:
Crown Lifting: Sometimes you would want your tree to have higher clearance. In this case, we can cut off a few of the lower branches.
Crown Thinning: If you wish to keep your tree, but have a desire to reduce the canopy density of the tree, we recommend a skilled arborist to do some crown thinning. Removing 10% of the crown secondary branches will provide you with more light to filter through the canopy and might even help you to get your view back. Crown thinning is a delicate job best done by an expert as lack of experience might end up causing someone to cut off the wrong branches, reducing the overall tree health.
Deadwooding: Deadwooding is the act of removing dead branches off a tree. This is mostly performed to make sure that the branches don't fall and hurt someone. As our coast area can get hit by heavy storms, this might prevent property damage. But it's not only the big branches that can be removed, smaller twig removal can also be useful to reduce twigs littering your property.
Remedial Pruning: Remedial pruning can be done to correct and remove any damaged branches that are reducing your tree's overall health. This practice is mostly focused on removing diseased branches or any localised damage that can be found on the tree. This practice often requires a trained eye to see what branches need to be removed.
Selective Pruning: Compared to remedial pruning, in selective pruning, we remove branches that are causing a problem. This is not for the overall health of the tree, but more for practical purposes. Maybe a branch is growing over your driveway or you have a single branch blocking your view. This branch can be expertly removed without putting your tree's health in danger.
Formative Pruning: Formative pruning happens mostly to younger trees to encourage them to grow in the best possible direction. This practice can make future pruning actions much more cost-effective.
Line Clearance: Line clearance happens when there is a need for pruning when a tree is compromising the safe clearance of overhead services such as power lines, transmission lines, or telephone connections. We can skillfully remove these troublesome parts of your tree.
Palm Pruning: Tall palm trees tend to be a headache when they have old fronds and fruiting clusters. When these fall, the potentially hazardous fronds can be a nuisance to get rid of and they can even have a strong smell. Another reason to prune your palm would be to remove the sprouts at the base of the trunk. It is important to prune your palm correctly as an overpruned palm can look terrible and can attract pests. You want your palm green and thriving and regular pruning will help you get that beautiful tropical look!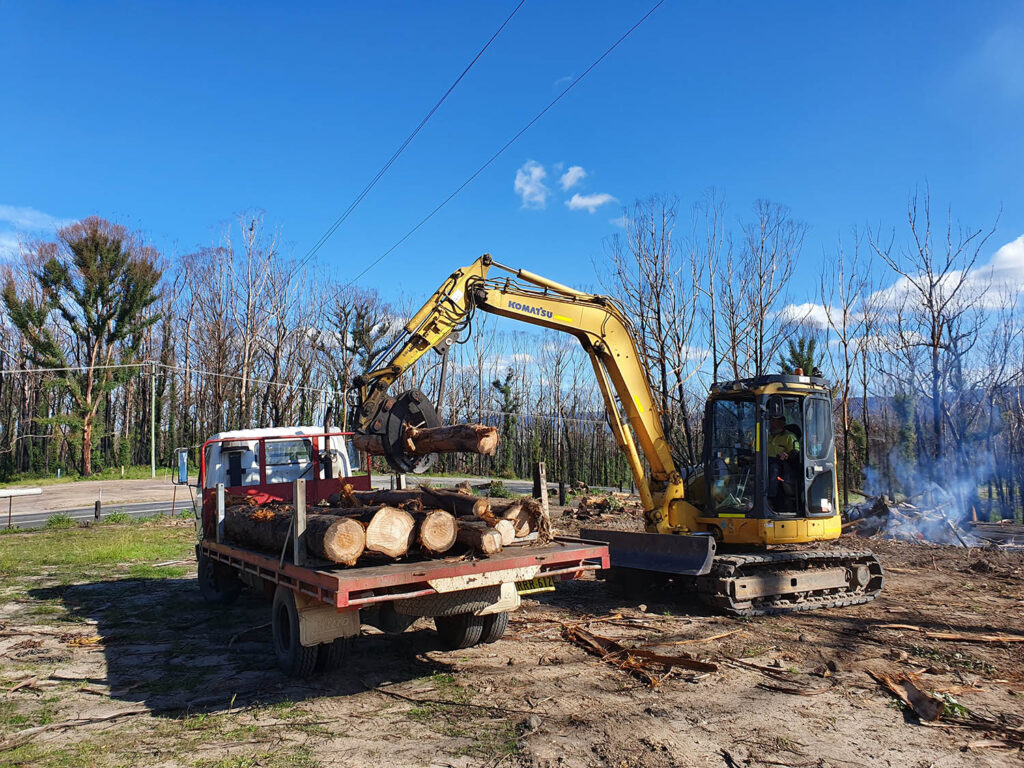 FAQ: Tree Topping Versus Crown Thinning
Trees are a blessing, but sometimes they can become bigger than we would want them to. If they grow too big, they can block your view, get too close to utility lines, grow onto the neighbour's property, or shade your garden or solar panels. But there is a way to reduce the size of your tree without harming its health!
This practice is called tree topping or crown thinning. But these terms actually do not mean the same thing!
So what is the difference between tree topping and crown thinning?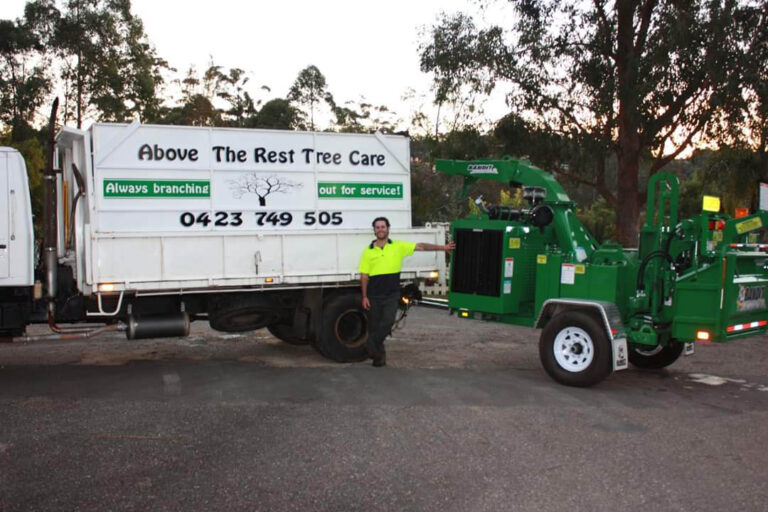 In tree topping, people remove the top of the tree or shrub to reduce the overall height of the tree. However, tree topping usually has an unaesthetic result and can even cause problems to your tree's health. Removing a large portion of the crown can disturb the balance between the foliage, branches, and trunk of the tree. When too much is cut off the tree's crown, the photosynthesis process of the leaves transforming sunlight into food is upset. This makes it hard for the tree to protect itself against sunburn on the bark, diseases, fungi, and rot. When this goes too far, your tree can even die of starvation and disease.
In addition, similar to tree lopping, tree topping makes the tree an easy prey for insects and pathogens. Even applying wound dressing to the branch stubs would not be enough to prevent the attacks as it simply won't have the power to fight it.
One would think that removing large branches solves the problem of overgrowth. But when done badly, such as in the practice of tree topping, the tree puts all its efforts into recovering. This results in the badly attached sprouts and newly formed branches growing back faster than ever. These sprouts and branches, however, won't be strong enough to survive rough weather, causing the tree to be even more distressed. Plus these branches are often a threat to people or property close to the tree.
In short, tree topping tends to be a short-lived solution that will cause you more trouble and effort down the line.
Crown thinning is the second method used to achieve a similar, but a more desirable result of reducing the size of your tree. However, this method is much preferred as it protects the integrity of the tree resulting in a more natural and aesthetically pleasing result. It also reduces any future pruning as there are fewer rogue sprouts than tree topping tends to create.
During the crown thinning process, our team of expert arborists carefully removes selected branches at the collar or the connection of a branch over the course of several years. As branches are still being removed, there is still a risk of infection and delay where the pruning took place, but overall, crown thinning tends to be the better option over tree topping (and for a similar price).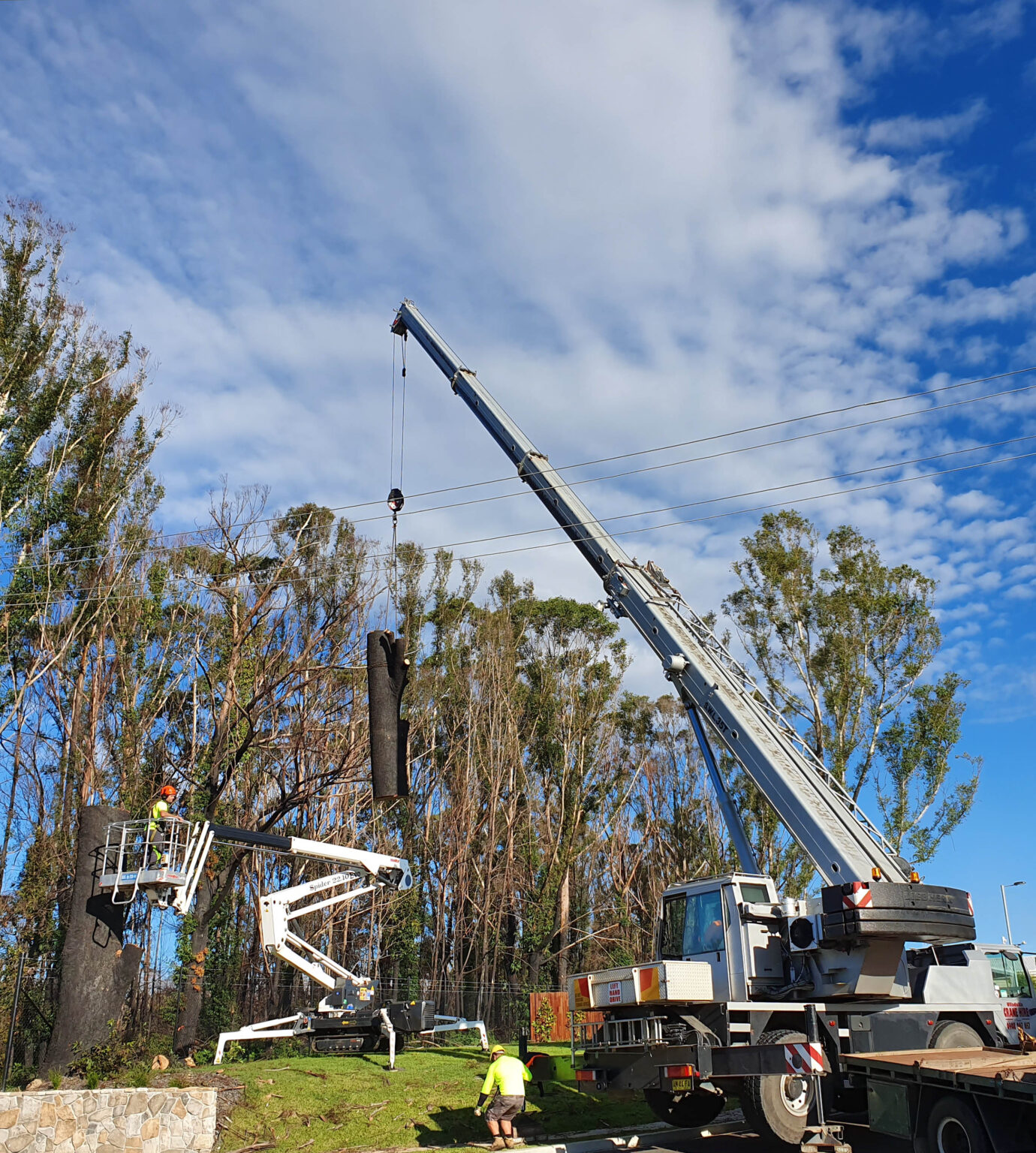 Council Permission for Tree Removal and Pruning
For any tree pruning or tree removal performed on your land, it is always important to check with Shoalhaven council to see whether a permit is needed. You can also ask our team for their expert opinion.
Whether you're removing or adding plants to your property, we recommend looking at the Shoalhaven council website. Especially if you are planning to clear vegetation, including trees, that is not directly associated with an already submitted development application.
If you are looking to remove or prune a tree because it is potentially posing danger to people or property, it is very important that you speak to council first before hiring an arborist. If you are pruning a tree for aesthetic or health reasons, there might be restrictions set up by council that need to be followed.
Above The Rest Tree Care follows the guidelines of Shoalhaven council at all times and cannot start work on your property until the appropriate permits have been provided.
Mulching & Mulch Delivery
Mulch offers environmentally friendly protection for your garden and has a host of benefits:
Mulch can be created from both leaves and chipped wood as a part of the tree removal process. Above The Rest Tree Care offers mulching on-site allowing you to benefit from your just removed tree. 
Overall, alongside the many benefits we believe mulch is a great resource to improve the ecology of your garden!
There can be a difference between the lighter and finer mulch and the more woody variations, depending on what is on offer.
Mulch will mostly consist out of leaf and twig material and bark timber from a variety of native trees and introduced species.
Both types of mulch can be delivered and mulched on-site depending on the need of your garden.
Why Use An Experienced Arborist or Pruner?
Our team of arborists, also known as tree surgeons or tree doctors, work many years on developing and improving their skills. There are many benefits of using a skilled arborist or pruner to remove or prune your tree versus attempting it yourself:
South Coast Tree Services: Ulladulla and surroundings
Above The Tree Rest Care and its highly trained tree specialists offer a variety of different tree services in the Ulladulla area: Tree Lopping, Tree Removal, Tree Stump Removal, Tree Pruning & Trimming, Mulch Delivery, and more!